Things to Do in Dublin
Family Activities & Great Things To Do in Dublin After Visiting Dublinia!
Now that you have decided to make the trip to Dublin City and find out all about the city's Viking heritage, you might be wondering what else you can plan for your day.
Finding things to do in Dublin can be overwhelming, especially with all the suggestions from multiple websites. Always ready to help, we have taken a look at some of the other sites and Dublin attractions on our doorstep that we are sure will keep you and your family entertained, no matter their age, Let us show you all the fun things to do in Dublin during your visit:
Check out our list of top tourist attractions Dublin has to offer. While we have you, take a look at the latest news and events at Dublinia Viking Museum Dublin.
Trinity College Dublin
Just a short stroll from our front door and a meander down the iconic Dame Street, Dublin's famous Trinity College stands tall and proud in the heart of the city centre. It's always a hive of activity – during term time with busy students hurrying from lecture to lecture (or coffee shop to coffee shop!), but throughout the year those looking to discover the college's steep history step through the famous Front Arch. Founded in 1592 by Queen Elizabeth I, Trinity College is Ireland's oldest and most prestigious university.
The historic campus has evolved through the centuries and now boasts architectural gems from the neo-classical front square and campanile to the much more recent and widely celebrated School of Business. The real attraction here though is the 9th century Book of Kell's housed in the historic Old Library.
This precious manuscript combines Latin text with beautifully intricate illustrations which have become synonymous with Ireland's cultural heritage. Discover how the manuscript was made and how it came to be in the college itself, then finish your visit with a walk through the breath-taking Old Library – regarded as one of the most beautiful libraries in the world.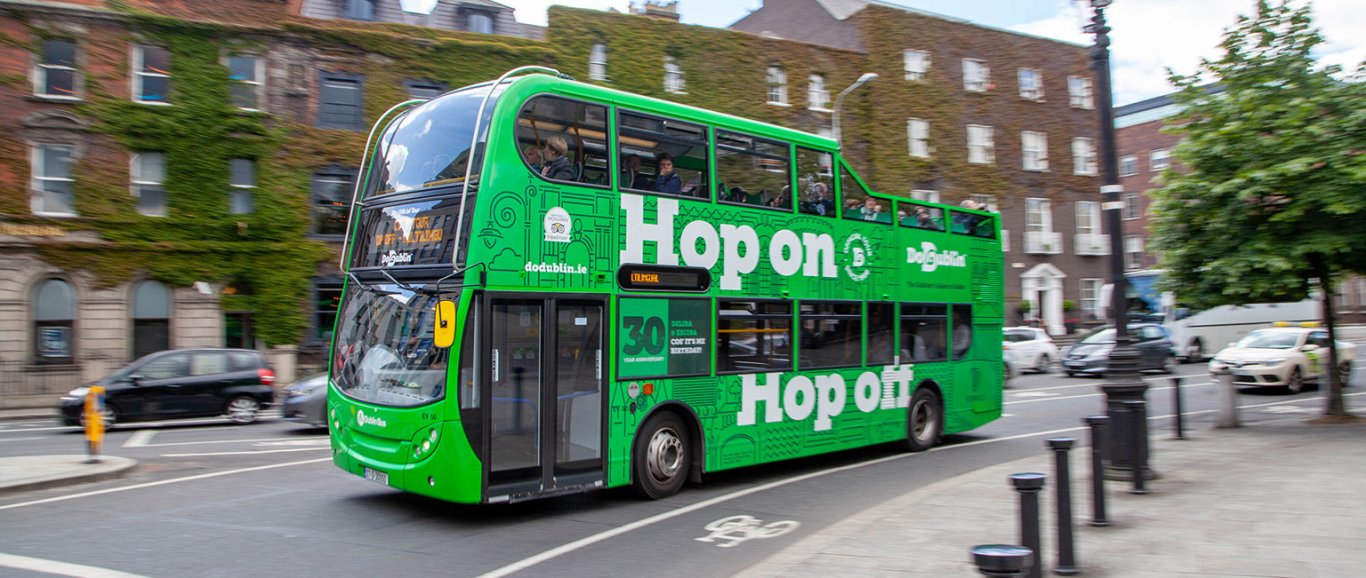 Do Dublin Hop On Hop Off Bus
Some great news for all visitors to Dublin City is that the wonderful Do Dublin Hop On Hop Off Bus Tours are returning at long last this August. You will no doubt be familiar with the green buses seen throughout the city but like so many things, they took a little break this past 12 months.
Thankfully though, they are back with a bang from 3rd August. You can purchase tickets that last for either 24 or 48 hours. Kids go free on the buses and your ticket also offers discounted admission to a number of other Dublin attractions offering great value for any family looking to take in as much of the city as they can in a short space of time!
Stops on the bus include EPIC The Irish Emigration Museum, The Jeanie Johnston, Teeling Whiskey Distillery, Dublin Zoo, Kilmainham Gaol… the list goes on and on. So you can use the buses as a tour of the city itself or as a brilliant way to get to each of the different stops on your day out. The Dublin Bus Hop-On Hop-Off Tour has a stop right outside Dublinia. Buy your ticket here.
Dublin Castle
Situated right on the site of one of the first Viking settlements in Dublin, Dublin Castle was erected in the 13th century. For centuries it was the home of English and British rule in Ireland. A residence for key political and military personnel, a courthouse, a gaol, government offices – it has had many functions through the centuries. After the signing of the Anglo Irish Treaty in December 1921, the castle was handed back to the new Irish government in 1922.
It has been used in countless filming projects from Michael Collins to The Tudors and Penny Dreadful and is also a thriving conference centre. Today it showcases a variety of temporary exhibitions on Irish Culture and Heritage in the Coach House and is also home to the world famous Chester Beatty Library.
The beautiful Chapel Royal is also a popular spot for tourists and when you take all of that alongside the beautiful Dubh Linn garden for a picnic or cup of coffee, it really is a hidden oasis in the very heart of the bustling city!
Guinness Storehouse
The other key attraction on our doorstep which is impossible to ignore is the legendary Guinness Storehouse! A 15 minute walk from our front door, The Storehouse is on almost every tourist's itinerary when visiting Dublin City. Who can blame them!
There are very few Irish brands as well knows as Guinness and it's probably safe to say a pint of the black stuff in Ireland is a fairly unique experience. The Storehouse takes visitors through the history of the Guinness family, the creation of the first brewery and very first pint, to the development of the global empire, it is today. It is a fascinating experience to walk through Dublin's Liberties, across the cobbled narrow streets and then to meet the iconic James' Gate seen in too many Guinness ads to remember.
Visitors are taken through the different stages in brewing Guinness and if you are lucky you might finally understand just what makes a pint of Guinness so deliciously creamy. If you're a Guinness drinker, this is the place for you – and if not, all of this sits alongside a beautiful exhibition on their famous advertising campaigns which is a really entertaining and insightful lens through which to view Irish culture. Absolutely not to be missed!
EPIC Irish Emigration Museum
At EPIC The Irish Emigration Museum in Dublin City, there are 20 interactive galleries where you may explore, interact with, and connect with Irish history and culture. Move past the preconceptions to learn what being Irish is really like and visit EPIC in Dublin City. 
The stories of Irish exiles who went on to become scientists, politicians, poets, artists, and even outlaws around the world will show you that what it means to be Irish extends far beyond the boundaries of Ireland, even though you won't find leprechauns or pots of gold here. Discover Ireland from the outside in and find out why saying "I'm Irish" is one of the biggest conversation starters across the globe.
Dublin

Zoo

The best spot to go for a fun family day out is Dublin Zoo. Numerous exotic creatures can be found in exquisitely designed habitats. The entire family will love a visit to Dublin Zoo, it is an experience not to be missed!

Dublin Zoo is home to more than 400 species and is situated on about 70 acres of lovely countryside. Not only are the animals at Dublin Zoo beloved, but also education and conservation. If you're searching for some entertaining Dublin Attractions, a day at Dublin Zoo is a must!   
Kilmainham Gaol 
Kilmainham Gaol in Dublin, which was closed in 1924, held some of Ireland's most illustrious political and military figures. Thousands of men, women, and children were imprisoned at Kilmainham Gaol for more than 100 years for offenses ranging from minor offences to participation in some of the most significant incidents in Irish history. 
The prison is regarded as a must-see attraction and will take you on a journey through contemporary Irish history. You will discover the stories of people held here as ordinary criminals alongside those who fought for Irish independence. Pre-booking tickets online is essential
National Museum of Ireland
The National Museum of Ireland on Merrion Street in Dublin City contains a gallery of Irish fauna and geological exhibits from its collection of scientific specimens totalling about two million. Affectionately known as the 'Dead Menagerie', the zoo has remained largely unchanged for over 150 years since Victorian times.

In 1857, the Natural History Irish Museum was opened to the public for the first time. Since then, it will continue to make visitors feel humble, educated and inspired in the vast and amazing diversity of life. 
So, there you have it. You and your family can Visit Dublinia as part of the 6 Dublin attractions on the Days Out Card. The Dublin Bus Hop-On Hop-Off Tour has a stop right outside Dublinia.